Slide 1
Student Accommodation
Experience the best accommodation abroad with Atlantic Language School. Choose from a range of options including homestays or apartments, single or shared rooms, self-caterging or full-board. Our dedicated Accommodation Team is here to support you throughout your stay.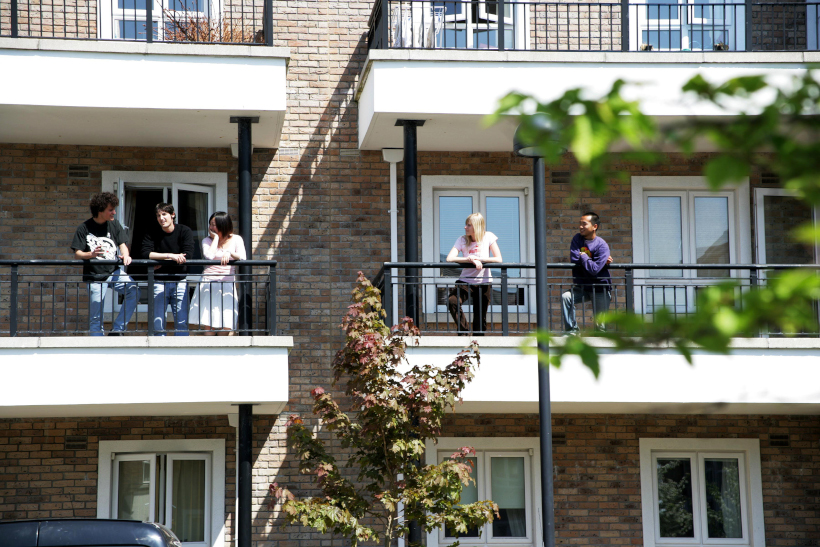 Self-Catering Apartments
Looking for independence and the opportunity to connect with other international students? Our self-catering apartments are the perfect choice for students who want to live independently while building friendships and exploring Galway together.
Located within walking distance of the school, our apartments offer convenience and a vibrant community atmosphere. Enjoy the freedom to cook your own meals, study in a comfortable space, and create unforgettable memories with fellow students. Discover the benefits of our self-catering apartments and start your exciting journey in Galway.
Find out all the details about our Self-Catering Apartments.

Homestay
Experience the warmth and authenticity of Irish culture through our homestay accommodation. Immerse yourself in the daily lives of an Irish family, practice your language skills outside the classroom, and create lifelong connections.
Our carefully selected Irish host families are excited to welcome international students into their homes, providing a supportive environment and opportunities for cultural exchange. Share meals, engage in meaningful conversations, and discover the true essence of Galway. Find your home away from home with our homestay option.
Find out all the details about our Homestay Accommodation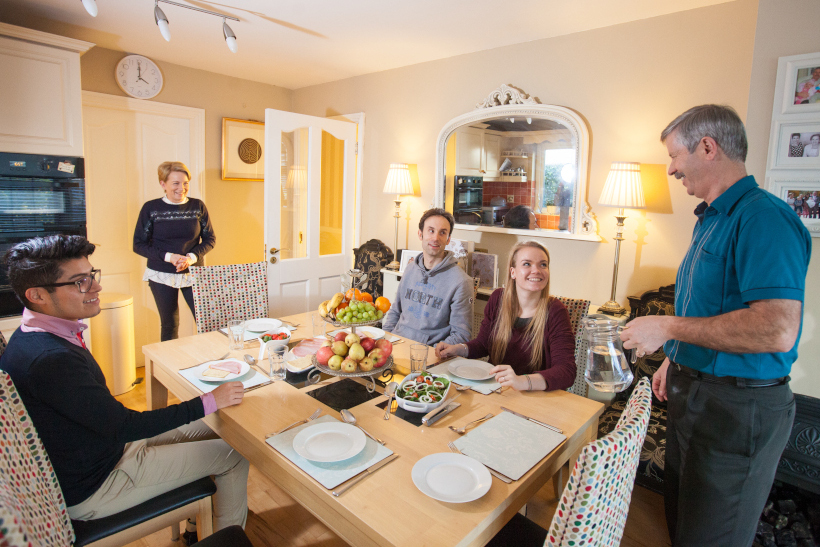 Check out the most frequently asked questions about our accommodation options in Galway
From booking procedures to facilities and policies, we have got you covered. Explore our FAQ section to ensure a smooth and enjoyable experience at Atlantic Language School in Galway. If you can't find the information you're looking for, feel free to reach out to our Accommodation Team for assistance.
What type of accommodation do you provide?
We offer self-catering accommodation and host family accommodation. We offer rooms in our shared student apartment residences.
We provide standard single rooms with shared bathroom, comfort single rooms with ensuite bathroom, comfort single rooms with private bathroom, or twin/ double rooms to be shared with another person. Rooms are allocated on the basis of availability at the time of booking.
We offer Host Family accommodation depending on availability, and we are also happy to recommend local hotels and B&Bs.
Where is your accommodation located?
Our year-round self-catering apartments are based in several residences in the city centre which are located within easy walking distance of the school.
During the summer we also offer rooms in the Westwood University Residence which is just 15 minutes by bus from the city centre and school. The bus stop for bus number 404 is located just outside the residence and buses run every 30 minutes throughout the day.
Our Gort na Coiribe Residence is located 20 minutes by foot from the school or you can get the 407 bus to Eyre Square in the city centre.
Bus timetables and live arrival information are available on the TFI APP.
Our host families are mostly located in the residential suburbs of Galway and are an average of 15 – 20 minutes by public transport from the city centre.
Are the apartments fully equipped?
Yes, kitchens are equipped with fridge, microwave, kettle and toaster, hob and oven, cooking utensils, crockery and cutlery.
The living area has a sofa and chairs, dining table and chairs, and a television. We also supply bed linen and towels.
Free Wi-Fi is included. We do not provide hairdryers or coffee machines.
Do the apartments have laundry facilities?
Our city centre residences, Geata na Cathrach apartments and Kitty Hall, have washing machines in each apartment. Our summer residences, Westwood and Gort na Coiribe, have launderette facilities on site for which you must buy tokens.
What is meant by 'shared student apartment'?
Atlantic Language offers rooms in 2 or 3 bedroomed apartments which are for the exclusive use of Atlantic students.
If you book a room in an Atlantic apartment, you will be sharing the kitchen and living area with 1 or 2 Atlantic students, depending on the number of bedrooms in the apartment.
If you are attending Atlantic Language with colleagues, you can request to share an apartment together and this will be facilitated if there is availability.
You may be allocated a room in an apartment in which another Atlantic student is already living.
Our cleaners will ensure that your room and bathroom are thoroughly cleaned and prepared for your arrival. However, there may be signs of the other student's presence in the shared areas – the kitchen and living room.
What is meant by a 'comfort room'?
Our apartments all have one main bathroom and one ensuite bathroom which is attached to one of the bedrooms. If you book a 'comfort room', you will be offered either an ensuite room with its own bathroom or a room with exclusive use of a separate bathroom. The allocation of comfort rooms will be determined by our accommodations team based on availability.
What is meant by a 'double room' or a 'twin room'?
A double room is a room with one double bed which can be booked for two people sharing.
A twin room is a room with two single beds which is suitable for two people sharing.
What is meant by 'self-catering'?
Apartments are not hotels so you will have to provide things like food and toilet paper for yourself. A certain amount of toilet paper is provided for your arrival, but you are responsible for any further supplies.
The kitchens often have certain basics like cooking oil, sugar, salt, tea, and coffee, so you shouldn't do any shopping until you see what is available.
Do I have to clean the apartment when I'm leaving?
We will look after the final cleaning to prepare for the next arrival, but we do expect guests to leave the apartment in a clean and tidy condition on departure.
Can I request a room in a specific apartment residence?
We cannot guarantee such requests as we are obliged to manage all accommodation requests based on current availability.
However, please let us know if you have specific needs (eg. disabilities etc.). Unfortunately, at this point in time, our apartments are not wheelchair accessible.
When do I get information about my accommodation and how to find it?
Approximately one week before the start date of your course you will be sent detailed arrival information about your accommodation eg. how to access your apartment or how to get to your host family's house. We will also send you login details for the Atlantic Language App.
If you download the app, you will find all the information you need about your residence and the arrival procedure.
What is the apartment check-in and check-out time?
Your apartment room will be available any time after 3 pm on Saturday. We operate a self-check-in system, allowing for evening/night/Sunday arrivals.
Check-out time for apartments is 10.00 am on Saturday morning.
If you are going to a host family, please contact your host family directly with your arrival details. (WhatsApp or Text is usually preferred to email).
Check out our Price Lists
Explore our Price Lists for comprehensive details, extra services and pricing of our accommodation options.
You can download the PDF files to get all the information you need to plan your stay with us.
Still have doubts about our accommodation options?
Remember, whether you choose our self-catering apartments or homestay accommodation, we are here to support you every step of the way. Contact us to learn more about our accommodation or to book your Galway experience today!