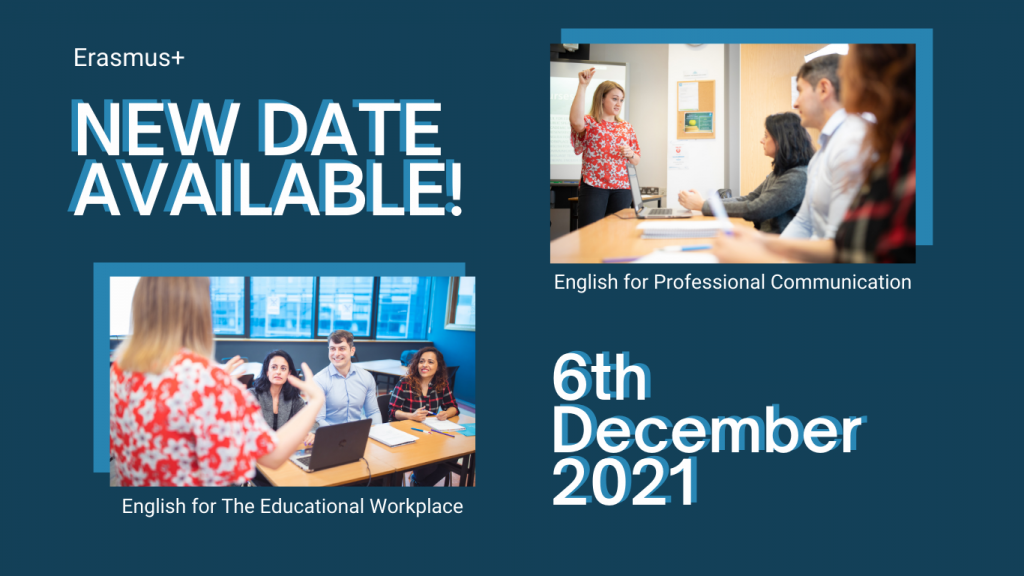 Erasmus+ Courses
Making Your Classroom An Inclusive Environment
Integrate Blended Learning Into Your Teaching Practice
Approaching CLIL as a language teacher
Implementing CLIL in the subject classroom
Introducing Climate Change Issues Into The Language Classroom
Mindfulness and Emotional Intelligence for Secondary Teachers
Academic Writing and Presentation Skills
English for the Educational Workplace (New Date Added!)
English for Professional Communication (New Date Added)
English as a medium of instruction for HE lecturers
Mindfulness and Emotional Intelligence for Tertiary/Educators 
Empowering Staff in Higher Education
For 25 years we have been committed to providing premium English language courses to students from over 50 countries. In recent years we have been proud to invest our academic expertise and experience in developing premium Erasmus+ Staff Mobility Training Courses designed to meet the needs of HEI (Higher Education Institutions) staff including academics, coordinators and administrators, and school staff (primary and secondary). Our courses have been created to cater for European teachers who are facing increased demands to deliver their subject material through English or who need to present their research through English either orally or in written form. Our teachers and trainers are highly experienced in the field of English for education and take a huge interest in bringing our clients up to date with the latest developments in pedagogical methodology. We are committed to ensuring that you receive a focused and satisfying learning experience while also enjoying a traditionally warm-hearted Irish welcome. In Atlantic Language you'll find the answer to your language learning needs but you'll also go home with new friends and special memories.
Course Goal
At Atlantic Language, our mission is simple: To provide excellent English language courses for the international academic community, assisting in the professional development of the teachers and staff in the unique social and cultural environment of Ireland. We achieve this through the work of our excellent academic team, all of whom specialise in Erasmus+ courses. The team have extensive experience in working with academics across the world. This has meant that we often receive returning groups, highlighting the quality of the teaching on our academic team. Read more about our teachers HERE.
Programme Location: Galway
GALWAY – European Capital Of Culture 2020
Known as the cultural capital of Ireland, Galway is a charming, lively city on the west coast of Ireland. Galway city is a labyrinth of small, winding streets lined with shops, bakeries, traditional pubs and weekend markets. The city is renowned for its legendary festivals and nightlife, not to mention its proximity to the stunning Aran Islands and Cliffs of Moher!
Programme Cost:
Course cost: €445 for 25 hours of tuition + activities (1 week/5 days Monday to Friday)
*accommodation can be provided at an extra cost
For further information please email: [email protected]
Accommodation:
We offer the following accommodation options for a 7-night stay (Saturday to Saturday) in Galway:
Apartment Accommodation – one room in a shared self-catering apartment
Accommodation with an Irish Host Family with half-board Monday to Friday and full-board at the weekend
Please review the accommodation section for further information.
Course Funding
Participation on all Erasmus+ courses can be funded through the use of an Erasmus Plus STT grant from your academic institution. The Organiser, Atlantic Language, will provide the required documents including the STT invitation, work plan and a Certificate of Participation for all seminar participants.
For more comprehensive information on this, please email John Daly at [email protected] or visit the official European Commission website.
Click here if you wish to visit our Erasmus+ Online Section